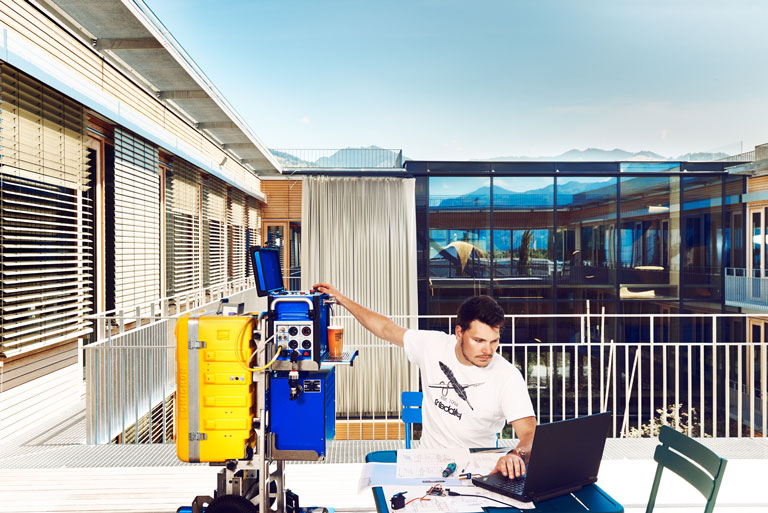 Innovation is needed everywhere
Innovation is incredibly important: in development, management, day-to-day processes, and marketing. Innovation is everywhere we turn, and we seek new ideas from all of our divisions and fields to help achieve goals as a team. We take pride in the fact that everyone at our company can potentially transform a vision into reality. We encourage the spirit of innovation to extend beyond the specific divisions we work in.
We love innovation grown from passion
Passion is about never settling for run-of-the-mill solutions. Passion is about hard work and taking the bad with the good. But when passion leads to success and new customers, or to team members who recognize your expertise and commitment, then success and loving what you do go hand in hand. If all goes according to plan, hard work and sacrifice give rise to genuine innovation. This is the life blood of our company, and it benefits our customers and their customers in turn. And seeing the fruits of your labor grow and thrive in new places makes you want to find the perfect solution that much more.
In our experience, we have seen that it takes hard work to make true progress. To get there, we rely on the sort of knowledge transfer that comes from teams, whose members span various continents and cultures. We believe that a mixture of diverse skills, life situations, personalities, and cultures provides an excellent foundation for innovative ideas to take root. And to keep the lines of communication clear among all of our employees around the world, we've chosen English as our primary company language.
You enjoy taking on new challenges? With us, you'll experience the rewards.
The demands of the energy sector are constantly changing, and there's a new challenge around every corner. This is one reason why maintaining contact with our customers and partners through conferences, training sessions, workshops, and in the field is so important. In doing so, we can learn the details about the problems they face. The solutions are often a result of our global team working closely with the customers who needs us. And our wide range of commissioning and training services allow us to provide our customers with knowledge and expertise they can rely on. To us, this all comes down to sharing ideas.
We want to grow with you
Our in-house "talents" training program is a vehicle for providing training courses and workshops to help you expand your abilities and knowledge. We will also support your training outside of the company, whether you are looking to advance yourself in your current field, take on new challenges, or become a project manager, coach (team leader) or process manager.