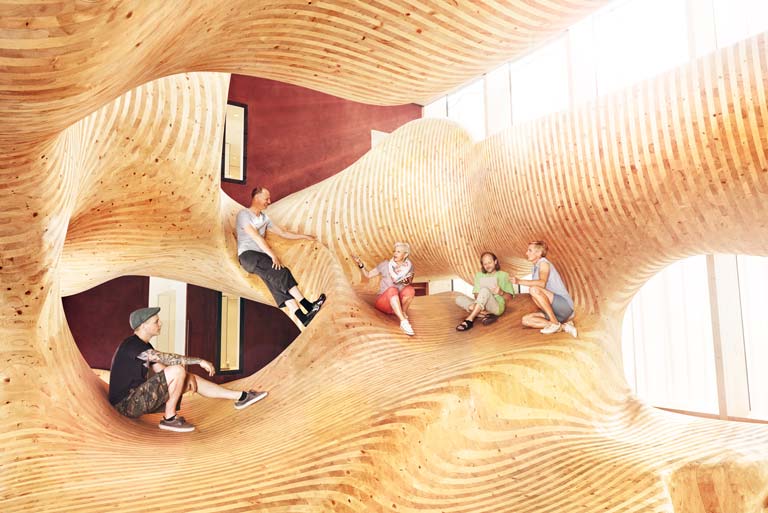 An inspiring work environment
"Create an environment with no artificial limits where a team of excellent members can reach an excellent performance and enjoy working (having fun) at the same time. This team should get its recognition for providing the best solutions to the customers." It is this vision from company founder Rainer Aberer that helps us shape our work environment. It is designed to ensure that people can apply their talents efficiently and to encourage them to take on responsibility within a supportive team. We believe that a work environment focused on people and their needs is the best breeding ground for innovation and success.
In 2016, OMICRON was named "Austria's Best Employer" once again by the independent institute Great Place to Work. This is a great testament to the spirit that prevails at all of our business locations.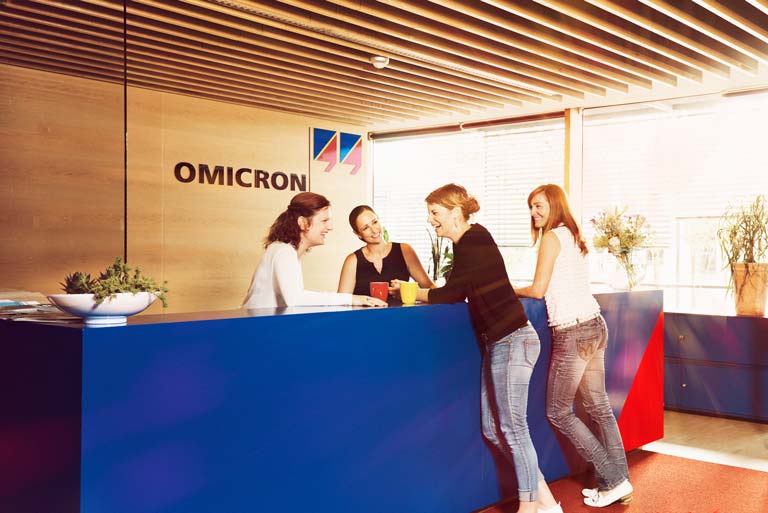 Personal responsibility is the best motivation which exists.
We strive to create a work environment that makes innovation possible. This means providing the freedom and leeway people need to do their best and feel a sense of personal responsibility to give their all. Our goal is to deepen the commitment of our staff and, in doing so, lay the groundwork to master today's challenges and those yet to come. We firmly believe it is more enjoyable to work in a company where respect, fairness and trust mean more than artificial boundaries and regulations. For example, at OMICRON, you can flexibly distribute your work hours to suit your needs. As long as the needs of customers are met, and your projects and team members stay on schedule, we'll make sure you have enough time for the things that are important to you away from work.
Infrastructure – the diving board for progress.
Our principle of "no artificial limits" also includes providing you with a technical setting that allows you to work comfortably and productively. This means for instance that work equipment like PCs, laptops, conference equipment and communication tools are always in line with the latest standards. Special labs and technical facilities provide the best conditions for development at the highest level.
Planning a family or a career change? With us, you can.
OMICRON enables you to plan your family and your career readily and cohesively. We do this by providing you with a variety of work-time models and advanced training programs, as well as career change options within the company.
Your health and safety are as important to us as they are to you.
It's in our interest to ensure that your work environment is healthy and safe. We go above and beyond complying with all the legal health and safety regulations by implementing additional work safety and accident prevention measures of our own. Ergonomic equipment, tools, furnishings, our sports and exercise programs go even further in making sure that you can stay fit and healthy.
Ideas take flight with us.
Great ideas happen both at your desk and in talks with co-workers. That's why we promote communication and creativity by creating space for them. At OMICRON, we have specially dedicated meeting zones where you have the chance to let your ideas run wild. Joint lunches, sporting activities, or even cooking together in a Kitchen Team are conducive to good communication and relations among fellow staff. We also have an intercultural network for joint activities away from work to encourage staff from all cultures to share and exchange ideas.
Success is an occasion to celebrate.
To keep the scales of hard work and recognition in balance, we believe in celebrating team successes and projects that have been completed. In addition, we have both summer and year-end celebrations for our entire staff at our locations around the world, each of which places its own spin on the event. We've also had parties known for being incredibly large affairs, such as the OMICRON World Festival in which staff and relatives from around the world met up for an unforgettable event.